Beef Stroganoff Recipe with Sour Cream – Low-Carb Keto Meal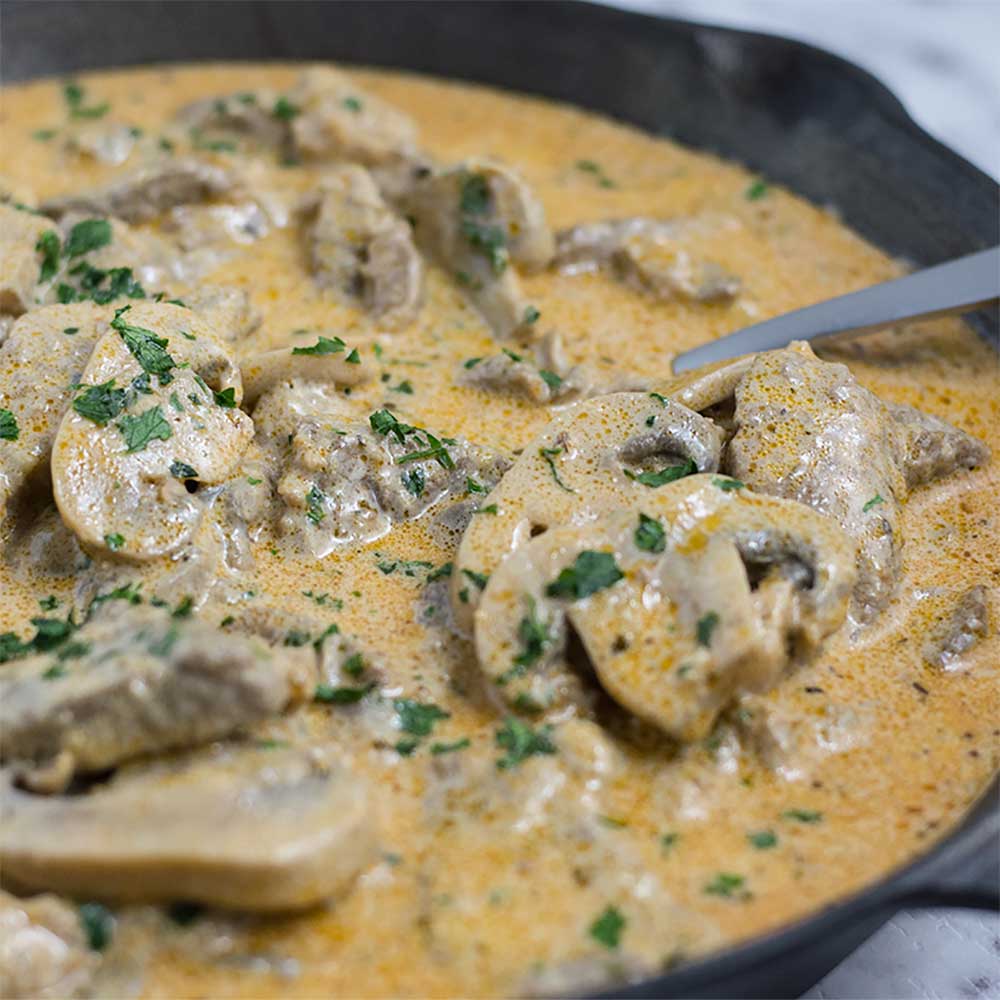 This beef stroganoff recipe is one of my absolute favorite Keto recipes. It's creamy, delicious and very filling.
It's also a perfect winter dish, especially in those cold days when you want to eat something warm and soupy.
There's no better dish then beef stroganoff. I promise you.
But What Exactly Is Beef Stroganoff?
Beef stroganoff is a Russian sautéed beef dish in savory sour cream sauce.
While there are many ways to make this dish, this easy beef stroganoff recipe is my made
It's high in fat, moderate in protein, and low in carbs.
But that's not all you love about this recipe. It's mess-free, easy, and convenient.
It's a one-pot meal with a cooking time of 30 minutes and its ingredient list is very minimal.
I also love that there are no unfamiliar ingredients you often see in keto recipes and foreign dishes.
Delicious comfort meal with least bit of hassle is very much my kind of recipe. And nothing fits the bill better than this beef stroganoff keto recipe.
Since the stroganoff sauce is very rich and thick, it goes really well with cauliflower rice. Zucchini noodles would also make a good pair.
If you are ready, let's get started.
2

 

tbsp

 

avocado oil

3/4

 

pound

 

steak in bite-size pieces

1

 

small

 

onion, chopped

1

 

clove

 

garlic, minced

1

 

cup

 

mushrooms, sliced

1

 

cup

 

beef broth

1

 

cup

 

heavy cream

1/2

 

cup

 

sour cream

1

 

tbsp

 

parsley, fresh and chopped

1

 

tsp

 

Salt and pepper

Heat the avocado oil in a large skillet over medium-high heat.

Add the beef and saute it for about 2 minutes until lightly browned.

Remove the beef from the skillet and set aside on a plate.

Using the same skillet, saute the onion, mushroom, and garlic until they are cooked, about 5 minutes.

Add back the beef to the skillet.

Pour the beef broth and heavy cream and bring to a boil.

Turn the heat to low and simmer until the beef is very tender, about 15 minutes.

Stir in the sour cream and season with salt and pepper. Sprinkle parsley on top and serve.

Per serving: Calories: 410, Fat: 31g, Protein: 29g, Total Carbs 6g, Net Carbs: 5g